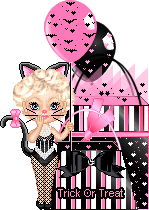 October 7th: Contest/Drawing For Logo Exchange
If you would like to be entered to win prizes...
Just add my logo to your website & Email yours to: trishastreasures@aol.com
Click Here to save my logo and link to: http://www.trishastreasures.com
Drawing Is Every Sunday: Oct 10 | Oct 17 | Oct 24 | Oct 31

Lucky Winners - Oct 10: Selene | Oct 17: Laura | Oct 24: Sarah | Oct 31: ?
---
October 8th: Free Sigtag (Above) To The First 5 Who Email Me
Please Type: Trick Or Treat Sigtag in The Subject Line!
And Send Me Your Name (for the sigtag) And Website Link (if you have one)

Lucky Winners - Phillipa, Selene, Jenn, Jeannie, Sheila
Just Added Treat Bags CLICK HERE To Get Prizes ;)
---
October 12th: Find The Pink Pumpkin

Hidden Some Place Else On My Website
The First One To Find it & Email Me Wins A Gift Wrap Set ;)
Please Include Your Name, Website (if you have one) & Where You Found It!


Lucky Winner: Jano - She Found The Pink Pumpkin!
---
October 16th: Make A Wish Game
Send Me Your Wish - Anything On My Website: Dolls, Gift Wrap, Themes, etc.
Then I Will Post A Star On My Website With Your Wish: Make A Wish!
The Star Will Link Back To Your Website - So Others Will See Your Wish ;)
Then I'll Make A Sigtag/Logo For You To Place On Your Website.
A Drawing Will Be Held For All The Wishes On Monday Nights:
Oct 18th | Oct 25th | Nov 1st - So Get Your Wish Sent Soon!
When Your Name Is Drawn - Your Wish Comes True ;)
I May Continue The Game For Christmas Depending On The Response
So Send Me Your Wish: trishastreasures@aol.com

Lucky Winners: Oct 18: Sheila | Oct 25: ? | Nov 1: ? |

---
October 21st: You're Invited To The Masquerade Ball Contest
Come join the fun - even if you don't enter - please vote: Oct 28th
CLICK HERE For More Details
As of Oct 23rd - We have 13 entries - need just 2 more to add 2nd & 3rd Prize ;)
---

October 23rd: Sigtag Scavenger Hunt
So here's a new game that I thought would be really fun to play...
Whoever is first to send me 5 sigtags of all my favorite things wins!
Black Kitty | Mermaid | Angel | Jewelry | Hearts
Trick: They must be in my favorite colors: pink and/or black Name: Trisha
Treat: The winner gets to pick any gift wrap on my website ;)

If you play but don't win... you still get a surprise gift!
Congratulations To Jeannie! She was first to get all sigtags sent!
Thanks to all who played/sent sigtags... you also get a gift wrap set!
---

October 24th: What Is Your Biggest Fear Or Scary Story?
I thought of this Halloween game this morning when I was walking in to my bathroom.
So I'll start first:
I have a fear of walking into a dark room!
Especially public places like movie theaters when we get there too late!
My heart even races a little. lol!
So here's a new game I thought would be fun to play.
Send me your biggest FEAR... just one! I know... I know I have more than 1 too! hehe!
Then we will have a vote for who has the funniest/most unusual FEAR.
You can write a little story: 1-10 lines about your fear to make it more entertaining!
And include a spooky sigtag - preferably one that best describes your fear.
If you can't find a sigtag... that's ok too!
Or if you can't think of a fear... write about something scary that happened to you.
Your fear/scary story can be anonymous if you don't want anybody to know who you are.
Just let me know when you enter if you want to be a ghost writer! lol
All fears are due October 30th... so voting can start Oct 31st (fun for Halloween).
I will start a web page soon to post all the fears/scary events.
I hope this sounds fun & I look forward to reading them ;)

Check Back Here Each Day - For More Surprises!